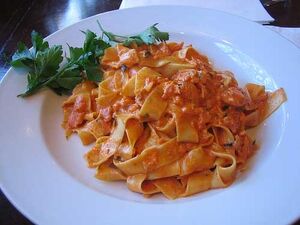 Prep Time: 5 minutes
Cook Time: 10 minutes
Yields: 4 servings
Description
Edit
My neighbor made this for one of our neighborhood potlucks and it was a hit! Sometimes I add chicken to make it more of a hearty meal.
Ingredients
Edit
12 ounces (1 package) dry fettuccine pasta
2 red bell peppers, julienned
3 cloves garlic, minced
3/4 teaspoon cayenne pepper
1 cup reduced fat sour cream
3/4 cup chicken broth
3/4 cup grated Parmesan cheese
salt and pepper to taste
Directions
Edit
1. Boil a large pot of slightly salted water. Add pasta and cook for 8-10 minutes, or until al dente.
2. Spray cooking oil into a large skillet and allow the skillet to heat up. Quickly sauté red bell pepper, garlic, and cayenne pepper over medium heat. Stir in cheese.
3. Toss pasta with sauce and season with salt and pepper.
4. Serve.