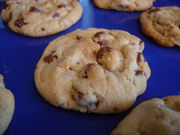 2½ teaspoons ground ginger
2 teaspoons baking soda
1 teaspoon ground cinnamon
1 teaspoon ground cloves
¾ teaspoon salt
¾ cup chopped crystallized ginger (can substitute toffee chips)
1 cup (packed) dark brown sugar
½ cup vegetable shortening, room temperature
¼ cup (1/2 stick) unsalted butter, room temperature
1 large egg
¼ cup mild-flavored (light) molasses

Several tablespoons granulated sugar

Combine first six ingredients in a medium bowl; whisk to blend. Mix in crystallized ginger/toffee chips. Using an electric mixer, beat brown sugar, shortening and butter in a large bowl until fluffy. Add egg and molasses and beat until blended. Add in the flour mixture and mix until just blended. Cover and refrigerate 1 hour (I chilled them overnight to make the dough easier to work with).

Preheat oven to 350° F. Lightly butter 2 baking sheets (not necessary if you have nonstick). Spoon granulated sugar in thick layer on a small plate. Form dough into 1" balls and roll in sugar to coat completely. Place balls on cookies sheets, spacing about 2 inches apart.

Bake cookies until cracked on top but still soft to touch, about 12 minutes. Cool on sheets 1 minute. Transfer to cooling rack.

Can be made several days ahead. Store in airtight container.